01554 774509
Invisalign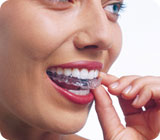 Your Invisalign treatment consists of a series of nearly invisible, removable aligners that you change every two weeks for the next set of aligners. Each aligner is individually manufactured for your teeth, and your teeth only. As you replace each aligner, your teeth will move - little by little, week by week - until they have straightened to the final position prescribed by your dental practitioner.
What's more, a virtual 3D treatment plan (ClinCheck© treatment plan) shows the series of movements your teeth will go through over the course of the treatment. This allows you to see upfront what your teeth are expected to look like at the end of the treatment. From the results of the ClinCheck treatment plan, your custom-made, clear aligners are produced especially for you.
Visit the Invisalign website
Watch the Invisalign video
Overcrowded teeth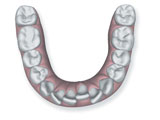 Overcrowded teeth occur when there is simply a lack of room within your jaw for all of your teeth to fit normally. When left untreated, overly crowded teeth can cause an increased chance of gum disease as your teeth are harder to clean and can prevent the normal function of teeth.
Widely spaced teeth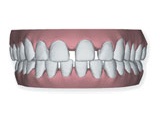 Widely spaced teeth occur when you have extra space within your jaw. This could be due to small sized teeth, abnormal growth of jaw bones, genetics, missing teeth and/or tongue protrusion. When teeth are missing, this can also be caused by the other teeth shifting due to extra space. Spacing issues can cause some perio-dontal diseases including gingivitis and periodontitis, that, left untreated, can lead to tooth loss.

Dental Care

Ensuring your long term dental health care.
Our unique dental care package will enable you to register with a practice thus ensuring your long-term dental care. For the peace of mind of fixed dental costs and regular preventative care simply contact us...

Cosmetics

Veneers, Tooth Whitening, Crowns
Veneers make teeth look natural and healthy. With minimal adjustment to your natural teeth, veneers can improve the colour, shape and position of your teeth. They look good and as they last a long time...
Click here to find out more about our cosmetic and restorative treatments

Implants

Reconstructive Dental Implants
A dental implant is an artificial tooth root made from titanium and can hold a replacement tooth, bridge or a denture. While high-tech in nature, dental implants are actually kinder to your other teeth...