01554 774509
Dental Implants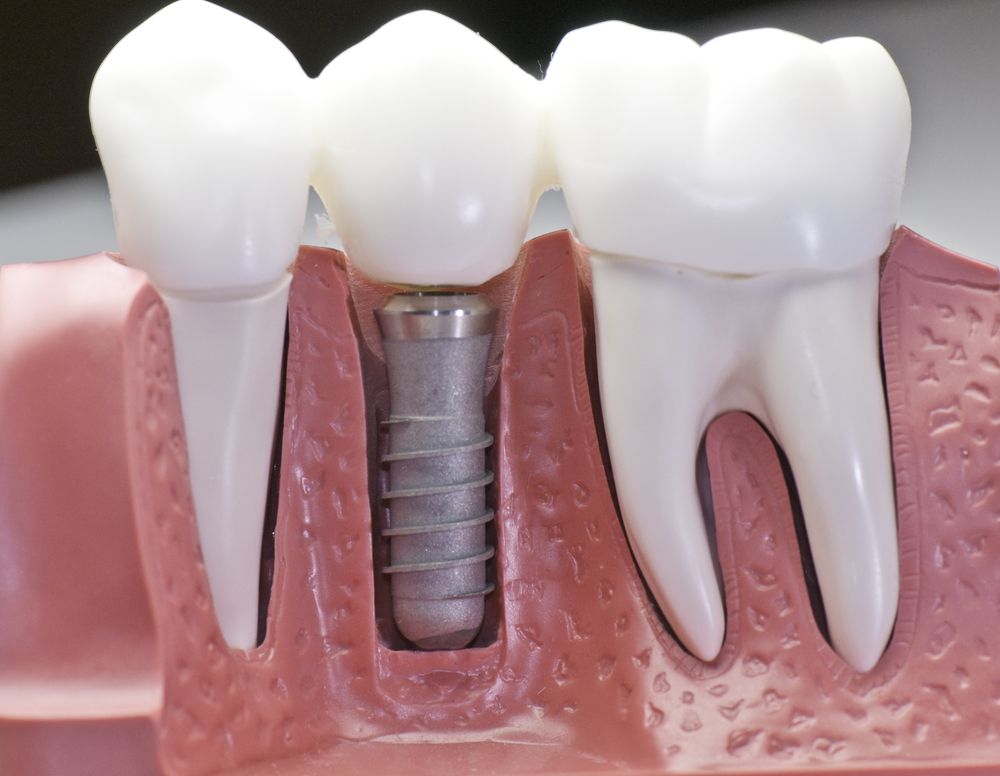 Dental implants have been provided at Warren Davies Dental Care for over 10 years. Warren Davies is one of the few dentists in Wales who has completed a Master's degree in Dental Implantology.
A dental implant is an artificial tooth root made from titanium and can hold a replacement tooth, bridge or a denture. While high-tech in nature, dental implants are actually kinder to your other teeth than traditional bridgework, since implants do not rely on drilling neighbouring teeth for support. They feel and look so natural that you will forget you ever lost a tooth.
What Dental Implants Can Do?
Replace one or more teeth without affecting adjacent teeth.
Support a bridge and eliminate the need for a removable partial denture.
Provide support for a denture, making it more secure and comfortable.
Whether you are missing one, a few, or all of your teeth, implants may be the most natural-looking solution for restoring both your smile and ability to chew with comfort and confidence.
Visit our practice for a no obligation implant consultation to see how we can help you.
Testimonials
Until I came to Warren Davies, I struggled to find a dentist with sufficient empathy to look after me. Initially I needed sedation to have any treatment but I donít any more.

J Urquhart, Swansea
We lived in Australia and our daughter was scared of her Australian dentist. She loves going to Warren and jumps into the chair, she even let him take her tooth out. Amazing.

L Edwards, Bridgend
I used to suffer with painful gum infections a lot. Warren put dental implants into my mouth and since then Iíve had no trouble at all. They look good and feel like my old teeth.

S Tiernan, Llanelli
Iíve been seeing the hygienist who is looking after my mouth really well. Iíve also had a implant from Warren which I am really pleased with.

S Keates, Swansea
Iíve always wanted straight teeth, but didnít want metal braces as I am a school teacher and would have felt quite self conscious.- Warren suggested trying invisalign which is like a clear brace . It was great because very few people noticed I had them in. My teeth are now straight and look great Iím really pleased.

L Morris, Llanelli
I was so fed up with my dentures. They were always loose and bothered me a lot. IĎve now replaced my denture with implants, they look good, donít move and I can eat anything with no problems.

M Davies, Carmarthen
I had my first set of crowns with Warren Davies over 23 years ago. I have now moved to Suffolk but am coming back to have new ones.

K Scott, Suffolk
I needed a dental implant. I went to warren Davies. Iíve had no problems and it looks great.

N Mazzeo, Llanelli
My crowns and bridges are brilliant. Got rid of my denture and they look really good.

Mrs J Jones, Llanelli
Iíve always wanted a really nice smile. Iíve seen many dentists and worked with them. Warren Davies completely changed my smile- Iím so delighted.

C Carver, Lloughor
12 years ago I was told by another dentist that I couldnít have bridges, and I didnít want dentures. I went to Warren Davies and he made bridges for me. I was delighted. Now I have had some implants and they look and feel great also.

Jeremiah, Carmarthen
I always wanted straight teeth but didnít want kidsí braces. I had invisalign with Warren Davies and it was easy and I could take them out to eat and no one could see them when they were in. Iím really pleased.

B Patel, Llanelli
I didnt want braces but wanted my teeth straight. I had Invisalign and it was easy. Iím really pleased.

R Patel, Llanelli
Iíve had a denture for years. I found out about implants and went to Warren Davies. I found him very professional and my mouth is great.

A Beynon, Llanelli
Iíve had an implant with Warren Davies. Iím really pleased.

Coschignano, Llanelli
Iíve had a lot of dental problems in my time. Iíve had crowns and bridges from warren Davies and I'm really pleased. I then needed an implant which is fine. I would recommend Dental implants.

P Humphries, Llanelli
I had all my front teeth crowned as I didnít like the spaces Iím really pleased.

White, Llanelli
I have had bridges crowns dentures and implants with warren Davies. I am anxious and often have acupuncture for my treatment . Iím really pleased that I can have acupuncture for my nerves and still have all the dental care that I need , I would recommend Warren Davies Dental care.

M James, Llanelli

Dental Care

Ensuring your long term dental health care.
Our unique dental care package will enable you to register with a practice thus ensuring your long-term dental care. For the peace of mind of fixed dental costs and regular preventative care simply contact us...

Cosmetics

Veneers, Tooth Whitening, Crowns
Veneers make teeth look natural and healthy. With minimal adjustment to your natural teeth, veneers can improve the colour, shape and position of your teeth. They look good and as they last a long time...
Click here to find out more about our cosmetic and restorative treatments

Implants

Reconstructive Dental Implants
A dental implant is an artificial tooth root made from titanium and can hold a replacement tooth, bridge or a denture. While high-tech in nature, dental implants are actually kinder to your other teeth...